Advantages
The upper and lower ends of the main shaft of the hydraulic cone crusher are supported to withstand greater crushing force and stroke, and the special crushing cavity conforming to the lamination principle makes the machine have higher crushing efficiency.

The hydraulic cone crusher combines the crushing stroke, crushing speed and the shape of the crushing chamber perfectly so that the output of the crusher is more than 30% higher than that of the old spring cone crusher when the diameter of the large end of the moving cone is the same.

Using the special crushing chamber and lamination crushing principle, the crushing effect between particles is produced, so that the proportion of cubes in the finished products is significantly increased, the needle-flake stones are reduced, and the grain size is more uniform.

Medium and fine fragmentation of various cavity shapes can be achieved by replacing the fixed cone only.

The hydraulic and lubrication system controlled by double insurance can ensure the overload protection and good bearing lubrication of the machine.

Cone crusher has simple and compact structure, stable performance and convenient maintenance.
Structure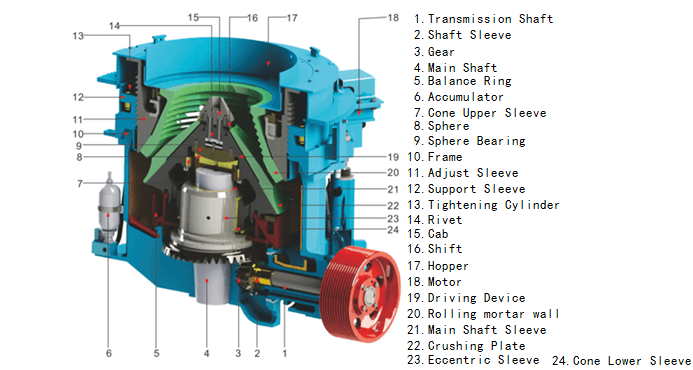 The motor drives the pinion of crusher, the pinion drives the big gear, the big gear drives the eccentric sleeve assembly and the spindle assembly centering on the theoretical vertical line, rotates in the copper bushing, and the spindle assembly can rotate in the eccentric copper sleeve with the centerline of the spindle.
When the airplane is running, the eccentric sleeve assembly drives the spindle assembly to rotate with the big gear. When the material is added to the crushing chamber, the spindle assembly rotates slowly in the eccentric copper sleeve under the resistance of the material. The trajectory of the inner cone seems to oscillate back and forth in the crushing chamber, while slowly rotating.
The material is crushed by the swinging inner cone. When metal blocks and other non-fragile objects fall into the crusher, the dynamic cone of the single-cylinder is supported by the bottom hydraulic piston, which plays the role of adjusting the discharge outlet, protecting the iron passage and eliminating the blockage by repeatedly rising and falling.
Technical Parameter
Model

Chamber Type

Outlet mm

Inlet mm

Capacity t/h

Motor Power kw

Weight t

HPT200

F

≥13

95

120-200

160

13.5

M

≥16

120

140-220

C

≥19

190

150-250

HPT300

F

≥13

105

110-260

250

18

M

≥16

150

175-320

C

≥20

210

190-380

HPT400

F

≥14

110

185-345

315

26

M

≥20

196

255-430

C

≥25

251

295-560

HPT500

F

≥16

135

280-455

400

37

M

≥22

210

345-605

C

≥30

290

405-790