Mining is a pillar industry of the national economy, and economic development cannot be separated from the support of mining.
Since its establishment, Shanghai Mining Expo has become a grand event in the field of mining in Asia. The last expo covered an area of 30,000 square meters, with more than 700 participating companies and more than 20,000 professional audiences. Effect. The 2022 Shanghai Mining Expo will be held at Shanghai Pudong New Expo Center on 12.1-3.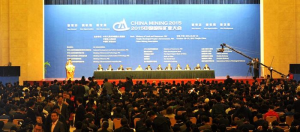 This exhibition will cover mining exploration technology equipment, mining technology equipment, mineral processing equipment, mineral processing technology equipment, mineral smelting technology equipment, mine safety equipment, mine environmental protection and energy saving equipment, etc.
The "14th Five-Year Plan" period is an important period for my country to start a new journey of building a socialist modernized country in an all-round way, and it is also an important period of strategic opportunity for the mining industry to achieve high-quality development goals.
A number of world-class mining companies and equipment manufacturing companies will participate in this important exhibition, DALI will exhibit various models of scooptram (underground loader), underground dump trucks, utility vehicles and so on.