Qixia Dali Mining Machinery Co., Ltd. is a professional manufacturer of underground mining equipment, mainly engaged in the production and sales of scooptram, underground mining trucks, and multi-purpose service vehicles.
WJ-1 is a small LHD loader with a bucket capacity of 1 cubic meter and a load capacity of 2000kg. It uses German Deutz air-cooled engine as the power source. This model is a mature model, DALI has been producing this model for 20 years.
The upper cover of the rear frame of this model is flat. For drivers whose height is less than 170cm, the operating vision is not good. The R&D team of DALI has improved the equipment on this point. The rear frame is designed to be streamlined, Provides the operator with excellent operational visibility.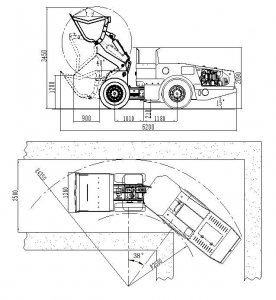 At the same time, we have optimized the electrical system, enabling operators to better monitor equipment operating parameters in real time.