Advantages
1. Equipped with a lifting device for easy maintenance.
2. Static and dynamic bearing, stable and reliable operation.
3. Slow-speed transmission, easy to repair and start.
4. Oil mist lubrication device to ensure reliable lubrication of large and small gears.
5. Flexible start of the gas clutch.
Structure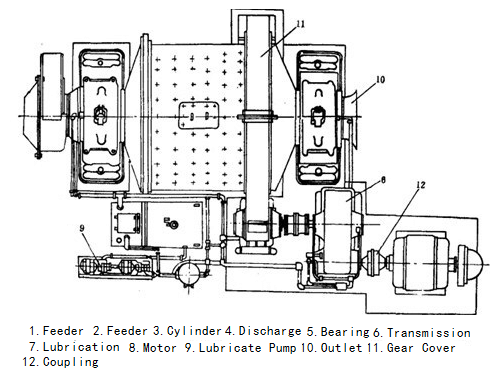 This machine is a horizontal cylindrical rotating device, driven by external gears, two chambers, grid ball mill. Ores enter the first chamber of the mill evenly by screw through the hollow shaft of the feeding device. There are corrugated lining plates and steel balls in the first chamber. The centrifugal force produced by the rotation of the cylinder brings the steel ball to a certain height and then falls down, which has a heavy blow and grinding effect on the ores. After the material is roughly grinded in the first chamber, it enters the second chamber through a single-layer partition board. The second chamber is equipped with flat lining plates and steel balls to further grind the ores. The powder is discharged through the discharging grate.
Technical Parameter
Model

Cylinder

Motor Model

Power

kw

Installation Size mm

Volume
m3

Ball Loading
t

Weight
kg

Diameter




mm

Length




mm

Revolution




rpm

Length

  Width

Height

MQG0909

900

900

39.2

Y225S-8

18.5

4027

2213

2015

0.45

0.96

4400

MQG0918

900

1800

39.2

Y225M-8

22

4196

2336

2015

0.9

1.92

5340

MQG1212

1200

1200

31.3

Y250M-8

30

4500

2104

1733

1.1

2.4

11438

MQG1224

1200

2400

31.3

Y280M-8

45

5764

2104

1733

2.4

4.6

13200

MQG1515

1500

1500

30.9

JR115-8

60

6094

2743

2170

2.5

5

13120

MQG1530

1500

3000

30.9

JR117-8

80

6800

2743

2170

5.08

8.6

19166

MQG1545

1500

4500

30.9

JR127-8

130

9085

3091

2170

6.57

11.3

22147

MQG2122

2100

2200

24.05

JR128-8

155

7750

4450

3533

6.6

16

42500

MQG2130

2100

3000

24.05

JR137-8

210

8330

4450

3533

9

20

44260

MQG2145

2100

4500

24.05

JR138-8

245

9933

4450

3533

13

23.5

50348

MQG2430

2400

3000

22.5

JR138-8A

280

8823

5113

3894

12.1

22.5

58328

MQG2436

2400

3600

22.5

JR138-8B

320

9455

5113

3894

14.5

26

61308

MQG2727

2700

2700

21.6

JR138-8B

320

8643

5722

4674

15.3

30

83145

MQG2736

2700

3600

21.6

JR1510-8

400

10463

5942

4674

18.4

36

89120

MQG2745

2700

4500

21.6

TDMK500-32

500

11471

5907

4674

23

45

109318

MQG3236

3200

3600

18.5

TDMK630-36

630

12442

7030

5150

25.6

51

144241

MQG3245

3200

4500

18.5

TDMK800-36

800

13975

7030

5150

32.8

65

153390

MQG3639

3600

3900

17.3

TDMK1000-40

1000

15000

7200

6300

36.2

75

168800

MQG3645

3600

4500

17.3

TDMK1250-40

1250

15200

7750

6300

41.8

90

179900

MQG3650

3600

5000

17.3

TDMK1400-40

1400

17600

7750

6300

46.4

96

183000

MQG3660

3600

6000

17.3

TDMK1600-40

1600

17000

8800

6500

55.7

120

204000

MQG4060

4000

6000

16.2

TDMK1700-30

1700

17400

9500

7600

69.8

137

214000

MQG4560

4500

6000

15..3

TDMK2300-30

2300

17800

10500

7600

87

158

294000