Advantages
1. The crusher's movable jaw assembly is advanced and durable.
2. The crushing ratio of deep cavity is large, the cavity shape is optimized, and the crushing efficiency is high.
3. The jaw plate is arc-shaped, and the effective length of the jaw plate increases, which improves the processing capacity.
Structure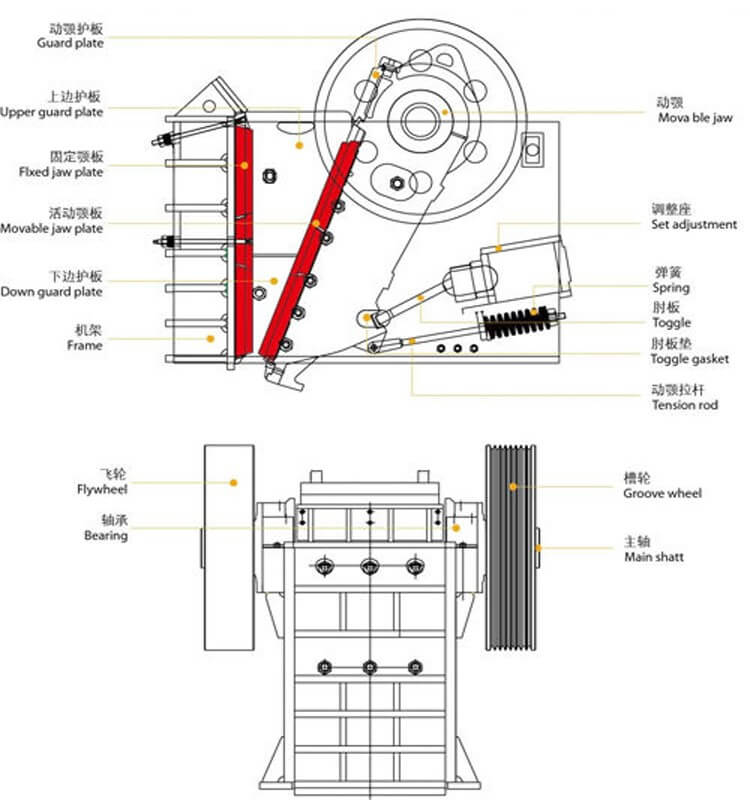 Jaw crusher is mainly composed of frame, eccentric shaft, large belt pulley, flywheel, side guard plate, elbow plate, back seat of elbow plate, gap adjusting screw, reset spring, fixed jaw plate and movable jaw plate. The crushing mode of jaw crusher is curved extrusion.
When working, the motor drives the belt and pulley to move the moving jaw up and down through the eccentric shaft. When the moving jaw rises, the angle between the elbow plate and the moving jaw becomes larger, thus pushing the movable jaw plate closer to the fixed jaw plate. The material is crushed multiple times by pressing, rubbing and rolling between the two jaw plates.
When the moving jaw goes down, the angle between the elbow plate and the movable jaw plate becomes smaller, and the moving jaw plate is under the action of pull rod and spring. After leaving the fixed jaw plate, the crushed material is discharged freely through the outlet at the lower part of the jaw cavity under the action of gravity. With the continuous rotation of the motor, the movable jaw is periodically crushed and discharged to achieve mass production.
Technical Parameter
| | | | | | | |
| --- | --- | --- | --- | --- | --- | --- |
| Model | Inlet mm | Outlet mm | Feeding Size mm | Capacity t/h | Motor Power kw | Weight kg |
| PE100×150 | 100×150 | 5-20 | ≤80 | 0.5-2 | 2.2 | 230 |
| PE150×250 | 150×250 | 10-40 | ≤125 | 2-6 | 5.5 | 1100 |
| PE200×350 | 200×350 | 10-50 | ≤160 | 6-10 | 7.5 | 1600 |
| PE250×400 | 250×400 | 20-60 | ≤210 | 8-15 | 15 | 1850 |
| PE250×500 | 250×500 | 20-80 | ≤210 | 13-20 | 18.5 | 3100 |
| PE400×600 | 400×600 | 40-100 | ≤350 | 14-36 | 30 | 5800 |
| PE500×750 | 500×750 | 50-120 | ≤400 | 30-80 | 45 | 9000 |
| PE600×900 | 600×900 | 75-200 | ≤480 | 56-192 | 55-75 | 18700 |
| PE750×1060 | 750×1060 | 80-140 | ≤630 | 130-260 | 110 | 28000 |
| PEX150×750 | 150×750 | 10-40 | ≤120 | 8-35 | 15 | 2800 |
| PEX200×1000 | 200×1000 | 15-40 | ≤160 | 12-50 | 22 | 5200 |
| PEX250×750 | 250×750 | 20-60 | ≤210 | 10-745 | 22 | 5000 |
| PEX250×1000 | 250×1000 | 20-50 | ≤210 | 15-50 | 30 | 6500 |
| PEX250×1200 | 250×1200 | 20-60 | ≤210 | 20-70 | 45 | 9000 |
| PEV500X750 | 500X750 | 40-150 | ≤400 | 55-340 | 55-75 | 9080 |
| PEV600X900 | 600X900 | 60-175 | ≤480 | 120-455 | 75-90 | 12700 |
| PEV750X1060 | 750X1060 | 70-220 | ≤630 | 155-580 | 132 | 23800 |
| PEV950X1250 | 950X1250 | 100-250 | ≤830 | 290-845 | 160 | 42260 |
| PEV1200X1600 | 1200X1600 | 150-300 | ≤1050 | 520-1275 | 250 | 76330 |
| PEV1500X2000 | 1500X2000 | 175-300 | ≤1320 | 760-1590 | 400 | 144600 |