Advantages
Hammer crusher has a high crushing ratio (generally 10-25, individual can reach 50).
It has a simple structure, compact body, lightweight, easy operation and maintenance, continuous and reliable work.
The particle size of the product is small and uniform.
Large production capacity, low energy consumption.
Deploying different sizes of slippery seam according to customer's requirements can adjust product granularity.
Structure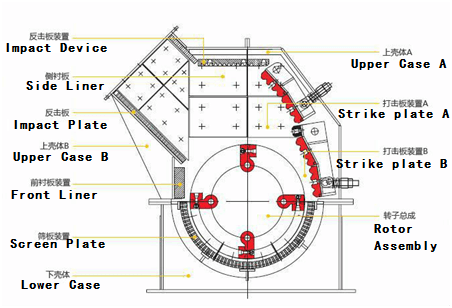 Hammer crusher is mainly composed of rotor assembly, slug, shell, counterattack frame and drive parts. It mainly relies on the hammerhead of the crusher to strike the ore strongly in the upper chamber.
The impact of the ore on the counterattack frame and the collision between the ores break the ore. The raw ore is fed into the crusher's inlet through feeding equipment (such as plate feeder), and then the ore falls into the crushing chamber between the high-speed rotating rotor driven by narrow V-band and the counterattack frame, which is preliminarily crushed by the hammerhead.
After preliminary crushing, the ore is further crushed between the rotor and the impact rack during downward movement, and then the lower crushing chamber formed by the slug and the rotor is finally crushed until the size of particles smaller than the slug slot is discharged from the lower part of the chamber.
Technical Parameter
| | | | | | | |
| --- | --- | --- | --- | --- | --- | --- |
| Model | Feeding Size mm | Outlet mm | Capacity m³/h | Motor Power kw | Weight t | Dimension mm |
| PC400×300 | ≤200 | ≤25 | 5~10 | 11 | 0.8 | 900×670×860 |
| PC600×400 | ≤250 | ≤30 | 10~22 | 22 | 2.26 | 1200×1050×1200 |
| PC800×600 | ≤250 | ≤35 | 18-40 | 55 | 4.8 | 1310×1180×1310 |
| PC1000×800 | ≤350 | ≤35 | 25-50 | 75 | 5.9 | 1600×1390×1575 |
| PC1000×1000 | ≤350 | ≤35 | 30-55 | 90 | 8 | 1800×1590×1775 |
| PC1200×1200 | ≤350 | ≤35 | 50-80 | 132-160 | 19.2 | 2060×1600×1890 |
| PC1400×1400 | ≤350 | ≤35 | 50-100 | 280 | 32 | 2365×1870×2220 |
| PC1600×1600 | ≤350 | ≤35 | 100-150 | 480 | 37.5 | 3050×2850×2800 |