Advantages
The automatic lifting device for sand return is added to the sand return end, and the configuration of the large spoon head of the ball mill is cancelled. Which makes the ball mill run more smoothly.

Power saving.

Avoid frequent maintenance of large spoon head.

Reduce the uneven impact on big gear and pinion gear of ball mill.
Structure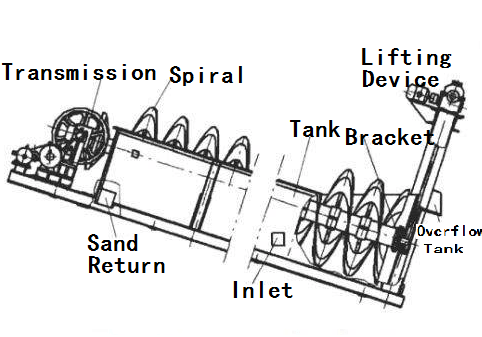 The pulp enters the flume from the inlet in the middle of the subsidence area. The screw device rotates at low speed to agitate the pulp, so that fine particles are suspended above and overflow at the overflow weir. Coarse particles sink to the bottom of the trough and are spirally conveyed to the discharge outlet for sand return. The position of overflow weir is higher than the bearing center of the lower end of the spiral shaft and lower than the spiral upper edge of overflow end.
Technical Parameter
Type

Model

Spiral Diameter

Spiral Revolution

Tank

Capacity t/d

Transmission Motor

Lifting Motor

mm

r/min

Length

mm

Width

mm

Inclination Angle

(°)

Overflow

Sand Return

Power kw

Power kw

Single Spiral

FG-5

500

9.2

3900

560

10.5°-14°

21-75

145-260

3

1.1

FG-7

750

7.8

5367

830

10.5°-14°

65-154

255-564

3

3

FG-10

1000

7

6500

1110

10.5°-14°

85

473-1026

5.5

5.5

FG-12

1200

7

6500

1372

10.5°-14°

150

1145-1600

5.5

5.5

FG-15

1500

6

8265

1664

14°-18.5°

235

1140-2740

7.5

7.5

FG-20

2000

5.4

8400

2396

14.5°-18.5°

400

5940

15

2.2

FG-24

2400

5.4

9160

2600

14°-18.5°

580

6800

15

2.2

FG-30

3000

3.17

12500

3200

14°-18.5°

890

11650

22

4

Double Spiral

2FG-12

1200

6

6500

2620

14°-10.5°

300

2290-3200

5.5X2

2.2X2

2FG-15

1500

6

8265

3200

14°-18.5°

460

2240-5360

7.5X2

2.2X2

2FG-20

2000

5.4

8400

4296

14.5°-18.5°

800

11880

15X2

2.2X2

2FG-24

2400

5.4

9160

5040

14°-18.5°

1160

13600

11X2/15X2

2.2X2

2FG-30

3000

3.17

12500

6300

14°-18.5°

1785

23300

22X2

4X2