Advantages
The interior is lined with wear-resistant rubber, including the box body, pipelines and key parts, etc. are all covered with rubber.

Cyclone set runs smoothly and has high classification efficiency.

The hydrocyclone unit can be equipped with automatic control system for classification, which can set parameters for the characteristics of black, non-ferrous and chemical minerals, non-metallic minerals and building materials minerals respectively. The liquid level of the pump pool and the flow rate, outlet pressure, slurry concentration and motor speed of the slurry pump can be detected and adjusted automatically to ensure the stability of the inlet index of the hydrocyclone.

The parameters are adjusted according to the feedback data of the overflow concentration and flow rate of the hydrocyclone, so that the index is always in the optimum range required.
Structure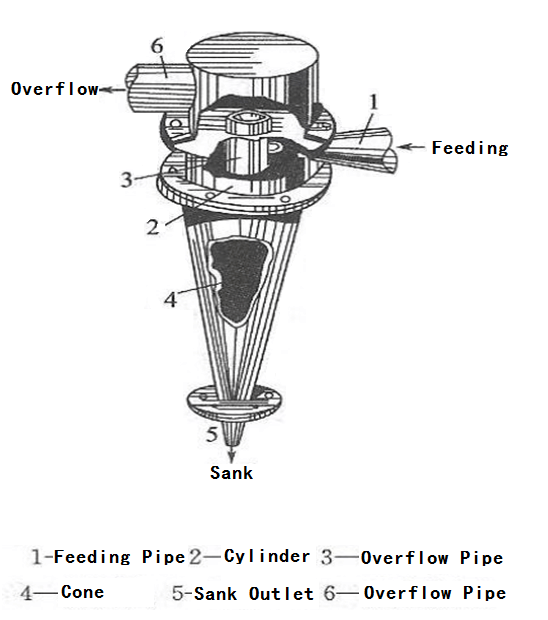 When the mixed liquid to be separated enters the hydrocyclone at a certain pressure from the feed port of the hydrocyclone, a strong three-dimensional elliptical strong rotational shear turbulence is generated. Due to the different density of particles, the centrifugal force, centripetal buoyancy, fluid drag force and other sizes are different. Under centrifugal sedimentation, most of the coarse particles (or heavy phases) are discharged through the underflow port of the cyclone, while most of the fine particles (or light phases) are discharged by the overflow pipe, thus achieving the purpose of separation and classification.
Technical Parameter
| | | | | | |
| --- | --- | --- | --- | --- | --- |
| Model | Specification | Capacity m3/h | Particle Size μm | Overflow Outlet Diameter mm | Sank Outlet Diameter mm |
| XC II F 150 | 150 | 10 ~23 | 25 ~74 | 30 ~50 | 8~22 |
| XC II F 200 | 200 | 17 ~38 | 28 ~80 | 40 ~65 | 16 ~32 |
| XC II F 250 | 250 | 24 ~53 | 30 ~82 | 65~100 | 16 ~40 |
| XC II F 300 | 300 | 40~100 | 36 ~90 | 65~120 | 20 ~40 |
| XC II F 350 | 350 | 56~118 | 40~100 | 80~120 | 30 ~70 |
| XC II F 375 | 375 | 74~157 | 42~105 | 90~135 | 30 ~70 |
| XC II F 450 | 450 | 90~192 | 44~110 | 100~150 | 30 ~70 |
| XC II F 500 | 500 | 128~300 | 50~115 | 130~220 | 35~100 |
| XC II F 550 | 550 | 155~368 | 52~120 | 140~240 | 35~100 |
| XC II F 600 | 600 | 200~468 | 57~125 | 160~260 | 65~110 |
| XC II F 660 | 660 | 237~524 | 60~130 | 180~280 | 80~150 |