Advantages
High classification efficiency.

Simple structure, easy to manufacture and large processing capacity.

Using wear-resistant rubber as lining, the service life can be prolonged by 2-4 times.

The structure design is reasonable, the classification index is high and the fluctuation of index is small.
Structure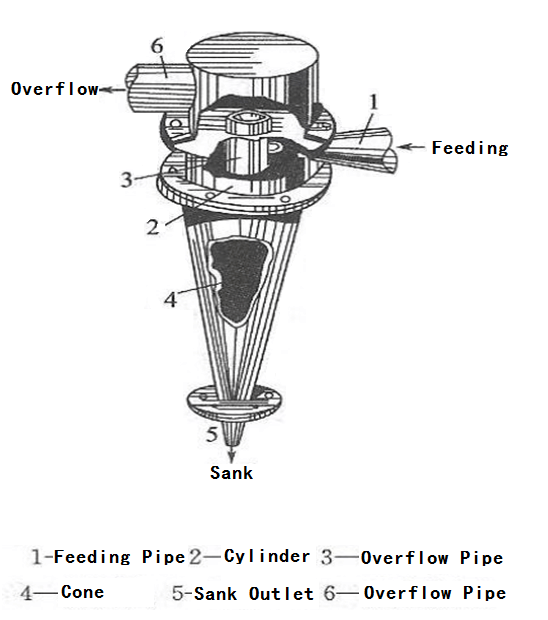 When the mixed liquid to be separated enters the hydrocyclone at a certain pressure from the feed port of the hydrocyclone, a strong three-dimensional elliptical strong rotational shear turbulence is generated. Due to the different density of particles, the centrifugal force, centripetal buoyancy, fluid drag force and other sizes are different. Under centrifugal sedimentation, most of the coarse particles (or heavy phases) are discharged through the underflow port of the cyclone, while most of the fine particles (or light phases) are discharged by the overflow pipe, thus achieving the purpose of separation and classification.
Technical Parameter
| | | | | |
| --- | --- | --- | --- | --- |
| Model | Specification | Capacity m3/h | Particle Size μm | Overflow Outlet Diameter mm |
| XC II F 150 | 150 | 10 ~23 | 25 ~74 | 30 ~50 |
| XC II F 200 | 200 | 17 ~38 | 28 ~80 | 40 ~65 |
| XC II F 250 | 250 | 24 ~53 | 30 ~82 | 65~100 |
| XC II F 300 | 300 | 40~100 | 36 ~90 | 65~120 |
| XC II F 350 | 350 | 56~118 | 40~100 | 80~120 |
| XC II F 375 | 375 | 74~157 | 42~105 | 90~135 |
| XC II F 450 | 450 | 90~192 | 44~110 | 100~150 |
| XC II F 500 | 500 | 128~300 | 50~115 | 130~220 |
| XC II F 550 | 550 | 155~368 | 52~120 | 140~240 |
| XC II F 600 | 600 | 200~468 | 57~125 | 160~260 |
| XC II F 660 | 660 | 237~524 | 60~130 | 180~280 |