Advantages
High processing capacity and high screening efficiency.

Vibrator adopts bearing oil lubrication and external eccentric block structure, with large exciting force, small bearing load, low temperature, and low noise.

The vibrator is disassembled and assembled as a whole, which is convenient for maintenance and replacement.

The side plate of the screen adopts whole plate cold working, no welding, high strength, and long service life. the connection between the cross beam and side plate adopts torsional shear high strength bolt connection, no welding and easy replacement of crossbeam.

The screen adopts rubber spring to reduce vibration. Compared with metal spring, it has low noise, long service life, stable over-resonance dynamic region and small dynamic load of each fulcrum of screen machine.

The flexible coupling is used to connect the motor with the exciter, which has a long service life and a small impact on the motor.
Structure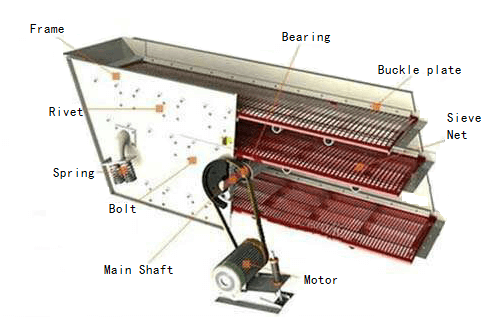 The motor drives the vibrator so that the screen body oscillates periodically and reciprocally along the direction of the exciting force, and the material moves circularly on the screen surface, thus achieving the purpose of screening.
Technical Parameter
Model

Screen

Max Feeding Size

Capacity tph

Motor

Weight kg

Layer

Area ㎡

Inclination angle

Model

Power

YA1224

1

2.9

20°

100 mm

60~200

Y132S-4

5.5

4256

YA21224

2

5160

YA31224

3

5320

YA1236

1

4.3

20°

200 mm

80~240

Y160M-4

11

4905

YA21236

2

5311

YA1530

1

4.5

20°

200 mm

80~240

Y160M-4

11

4675

YA1536

1

5.4

20°

200 mm

100~350

Y160M-4

11

5137

YA21536

2

5.4

20°

400 mm

100~350

Y160L-4

15

5624

YA1542

1

6.5

20°

200 mm

110~385

Y160L-4

15

5515

YA21542

2

6098

YA1548

1

7.2

20°

200 mm

120~420

Y160L-4

15

5918

YA21548

2

6321

YA1836

1

6.5

20°

200 mm

140~220

Y160M-4

11

5205

YA21836

2

Y160L-4

15

5946

YA1842

1

7.6

20°

200 mm

140~490

Y160L-4

15

5829

YA21842

2

6437

YA1848

1

8.6

20°

200 mm

150~525

Y160L-4

15

6289

YA21848

2

6624

YA2148

1

10

20°

210 mm

180~630

Y180M-4

18.5

9033

YA22148

2

Y180L-4

22

10532

YA2160

1

12.6

20°

200 mm

230~800

Y180M-4

18.5

9926

YA22160

2

Y180L-4

22

11249

YA2448

1

11.5

20°

200 mm

200~700

Y180M-4

18.5

9834

YA2460

1

14.4

20°

200 mm

260~780

Y200L-4

30

12240

YA22460

2

13583