Advantages
The slurryandgas have good trajectory and are especially suitable for flotation of mineral materials with high specific gravity, fast settling speed and coarse materials.

It has a special flow-stabilizing plate, which is composed of many arc blades of different lengths welded on the bottom liner of the groove. It can make the mixture of slurry and air evenly distribute all over the groove and prevent the slurry from turning in the groove.

Large air volume, strong stirring force and high bubble dispersion.

Mix slurry, gas and medicine evenly.

Flotation speed is fast.
Structure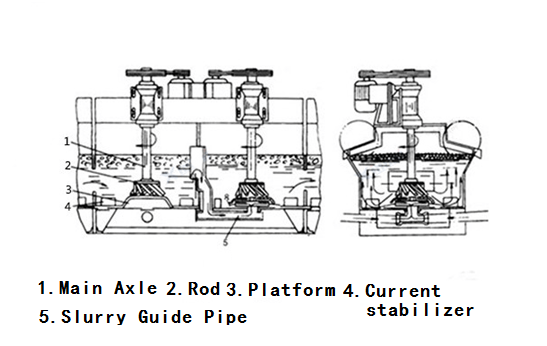 A unit is composed of two flotation tanks. The first tank (with a slurry feeding tube) is an inhalation tank and the second tank is a DC tank. There is an intermediate chamber between the two tanks. The impeller is installed at the lower end of the main shaft, with a belt pulley at the upper end of the main shaft, which is driven by an electric motor to rotate. Air is inhaled through an intake suction tube. The slurry level of each flotation tank is regulated by the gate. The upper part of the impeller is provided with a cover plate and an air cylinder (also known as a vertical pipe). There are holes in the air cylinder for installing the slurry feeding pipe, the return pipe of medium ore or for slurry circulation. The size of the holes can be adjusted by a pull rod.
Technical Parameter
Model

Volume

m3

Capacity

m3/min

Impeller Diameter

mm

Impeller Revolution

rpm

Motor Power kw

Weight kg

For Agitation

For Scraping

XJ-1

0.13

0.05-0.16

200

600

1.5

0.55

320

XJ-2

0.23

0.12-0.28

250

504

3

390

XJ-3

0.35

0.18-0.4

300

483

1.5

0.75

430

XJ-6

0.62

0.3-0.9

350

400

3

1.1

860

XJ-11

1.1

0.6-1.6

500

330

5.5

1635

XJ-28

2.8

1.5-3.5

600

280

11

2430

XJ-58

5.8

5-7

750

240

22

1.5

3633