Advantages
Shallow groove type, small impeller diameter, low speed, low power consumption.

The clearance between impeller and stator is large, and the stator is a cylinder with elliptical holes, which is conducive to mixing and dispersion of air and pulp.

The height of the stator is lower than that of the impeller, and the slurry circulation is larger, reaching 2.5 times.

the umbrella type perforated dispersion hood of the stator can make the eddy current generated by the impeller separate from the foam layer so as to keep the slurry surface stable.

Large inspiration and good dispersion.

The stirring degree is moderate and the solid particles are well suspended.

The granularity range is wide and the recovery rate is high.

It can form a combined flotation unit with SF flotation mechanism, SF flotation machine as suction tank, JJF type as DC tank.
Structure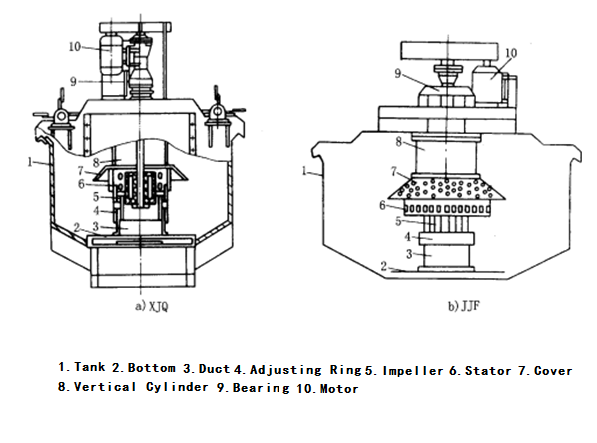 When the impeller rotates, the slurry produces eddy current in the vertical cylinder and the guide tube, which forms the negative pressure. The air is sucked into the intake pipe and mixed with the slurry sucked through the guide tube in the impeller and stator area. The slurry-air mixing flow is tangential motion formed by the impeller, then transformed into radial motion by stator action, and evenly distributed in the flotation tank. The bubbling of mineralization rises to the foam layer, and the single or bilateral scraping is the foam product.
Technical Parameter
Model

Volume m3

Capacity m3/min

Impeller Diameter

mm

Impeller Revolution rpm

Agitation Motor Power

kw

Scraping Motor Power

kw

Weight kg

XJQ-4

4

2~5

400

290;315

11

1.1

3100

XJQ-8

8

4.2~10

560

205;225

22

5146

XJQ-16

16

8~20

700

170;180

30

1.5

9314

XJQ-28

28

14~35

760

166;185

55

15940
Model

Volume m3

Capacity m3/min

Impeller Diameter

mm

Impeller Revolution rpm

Motor Power kw

Weight kg

Agitation

Scraping

JJF-2.8

2.8

1.5-3.5

340

400

7.5

1.5

2166

JJF-4

4

2.0-4

410

305

11

2303

JJF-5

5

2.0-6

2416

JJF-8

8

4.0-8

540

233

22

4700

JJF-10

10

5.0-10

4820

JJF-16

16

5.0-16

700

180

37

7600

JJF-20

20

5.0-20

730

8500